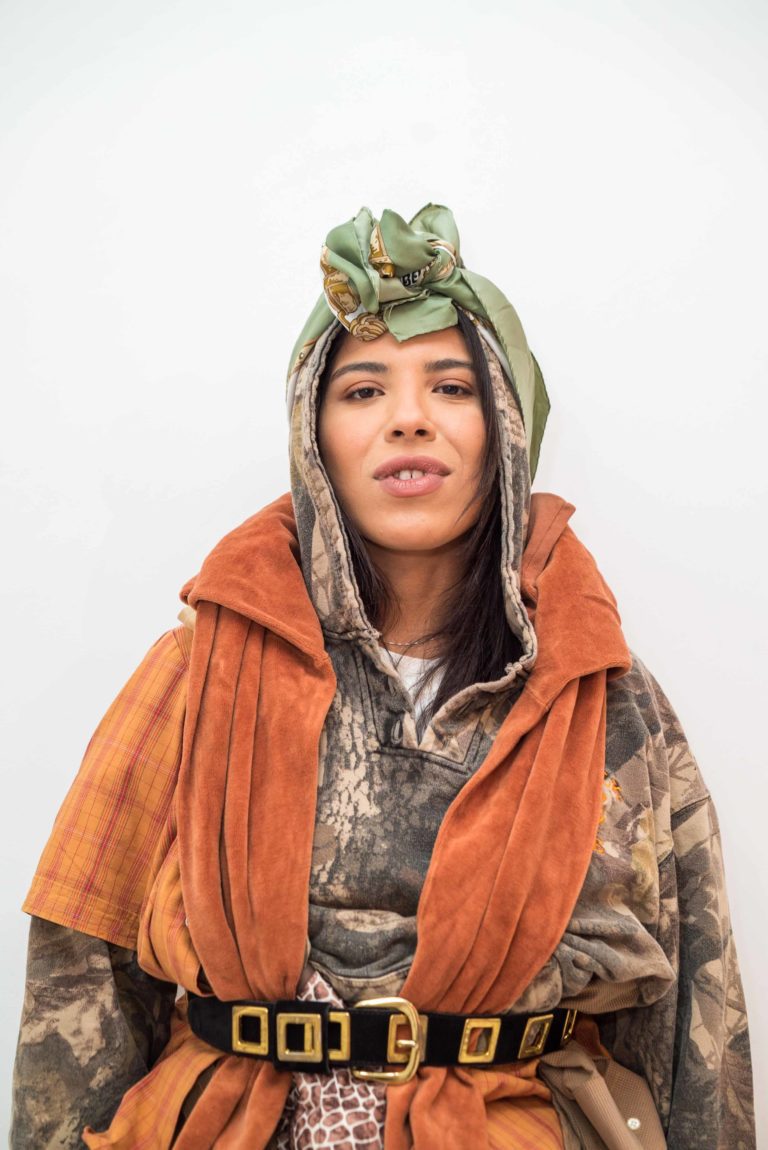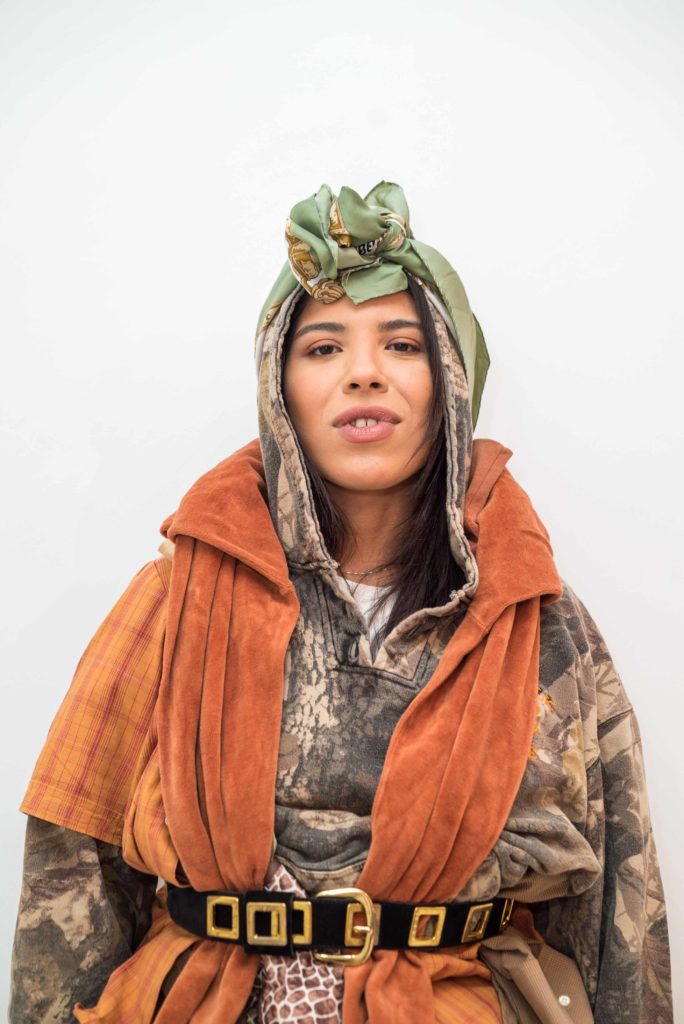 "Overtime, the fripes became my wardrobe [...]"
J'ai rencontré Amina à Sidi Bou Saïd lors de mes premiers mois arrivé en Tunisie. Elle est Tuniso-Américaine. Le hasard a voulu qu'on ai des amis en communs et nous avons vite sympathisé. Amina écrit pour le magazine MilleWorld, un magazine de mode et culture du monde arabe basé à Dubai.
Le shooting prend place au sein du studio Excreament. Les poses sont des caricatures inspirées d'expressions et de gestuelles paradoxales. Assise de 3/4 elle imite la Joconde esquissant un sourire en coin laissant le spectateur perplexe.
Tandis que la pose plein pied présente un sourire forcé, accompagné dun salut rigide
« -Honestly the fripes completely changed how I shop, when I was younger and living in the states I used to just shop online all the time, I was always buying new clothes, occasionally thrifting. Being in Tunis, I think actually its one of the best places to shop if not the best place to shop actually mmm.. there is just a lot of variety, often the quality of the clothing that you find at the fripes is actually better than what you can find in stores in Tunisia where you dont have access to a lot of brands.

Overtime the fripes became my wardrobe, the majority of what I wear today I bought there and there's pieces that i really cherish because its really exiting when you find something that you really like that is also just really good quality and you find it a a very good price. It's also just more socially conscious, so I dont really feel guilty about my shopping. It is also kind of like a part of culture for me its also one my favourite things to do with my friends so there is something to it that is very social that I really really appreciate. »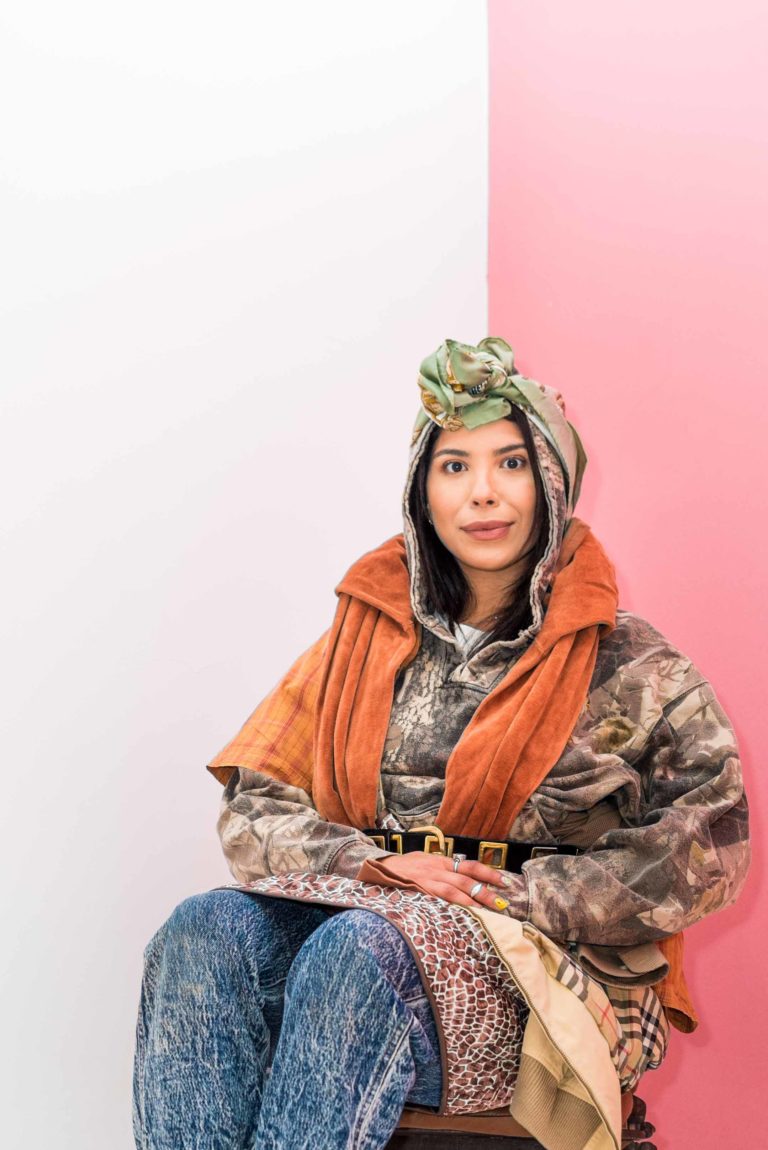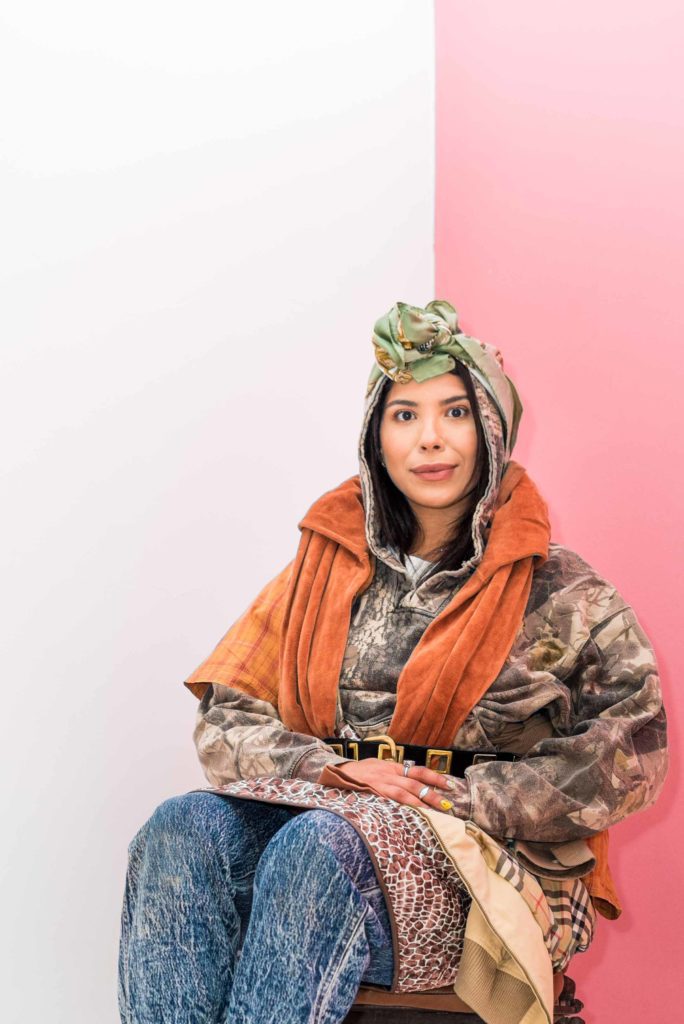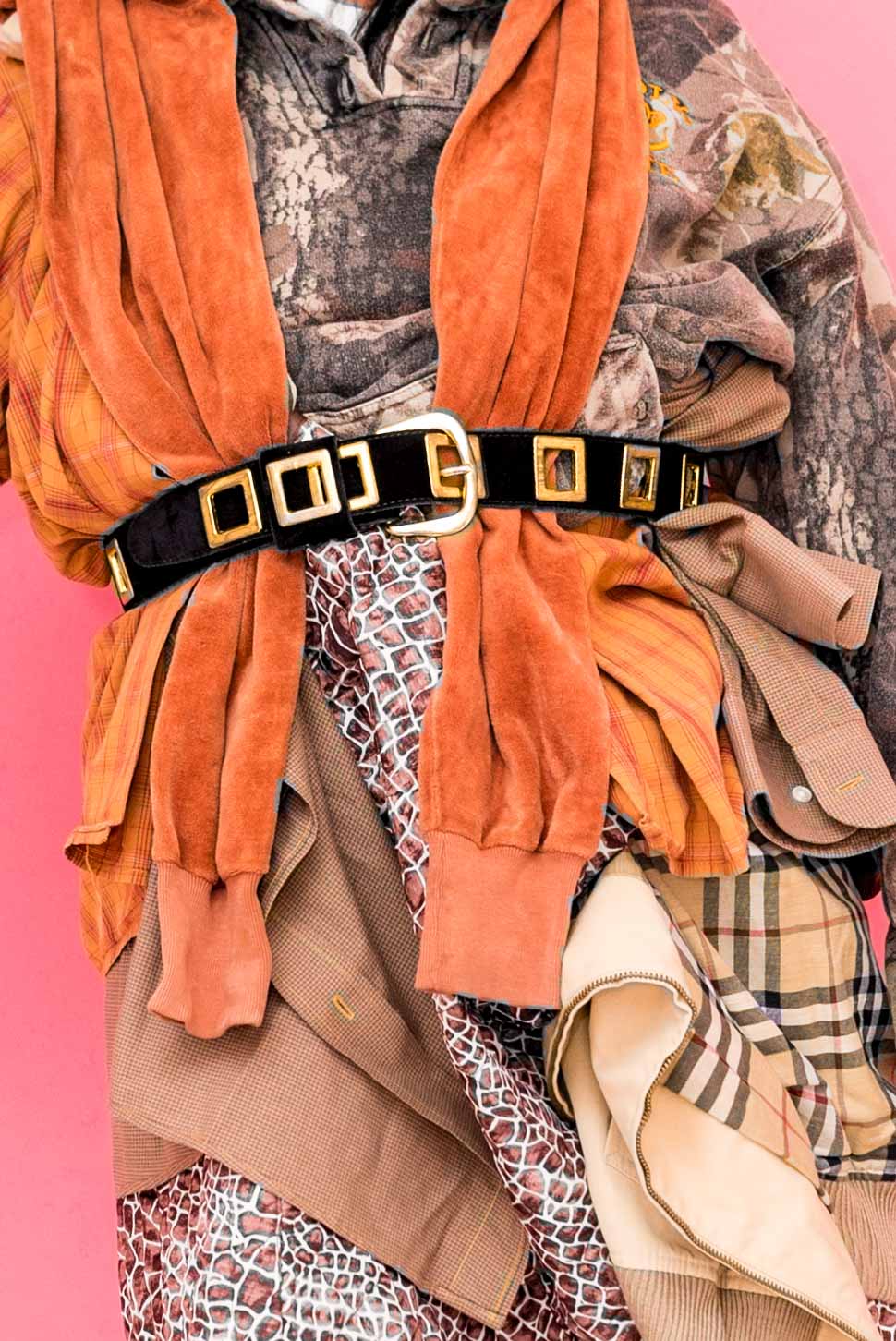 Le haut est composé d'un pull camouflage, et de la moitié d'une chemise à carreaux orange. Sous la taille, le motif crocodile donne l'apparence d'une peau dure contrastant avec le sweatshirt en velours qui entoure le cou.

Un foulard coiffe la capuche, couronne la tenue apportant une touche de féminité. Le gilet imprimé crocodile formant une jupe, répond à la partie supérieure du corps et donne un ton chaleureux à la tenue.

Rentré dans les chaussettes, le jean délavé par l'acide marbre le bleu et donne un effet texturé. Les bottes aux couleurs denim finissent la tenue, soulignées par des empiècements et une doublure dorée. La Cowgirl 2000.

Une ceinture dont la liane rappelle la matière du sweatshirt souligne la taille par des oeillets dorés. La doublure Burberry ajoute une touche chic et contraste avec le camo feuillage utilisé par les chasseurs americains.



"-I actually don't have a favorite animal but I will say dogs just because I build a strong bond with my dog Fifi, mmm…
So yeah I just think that they're very cute, loyal animals and I was just really surprised by their characteristics cause I didn't grow up with animals or pets or anything so.. I like dogs a lot...
Mmmm My favourite colour is definitely orange, I don't know how it happened but I just kind of over the years found myself really gravitating towards it. So mm yeah whenever I would be shopping, anything orange would catch my eyes, I'd pick it up and wear it and I think it probably has something to do with just how vibrante of a colour it is. Mmm so yea [...]"