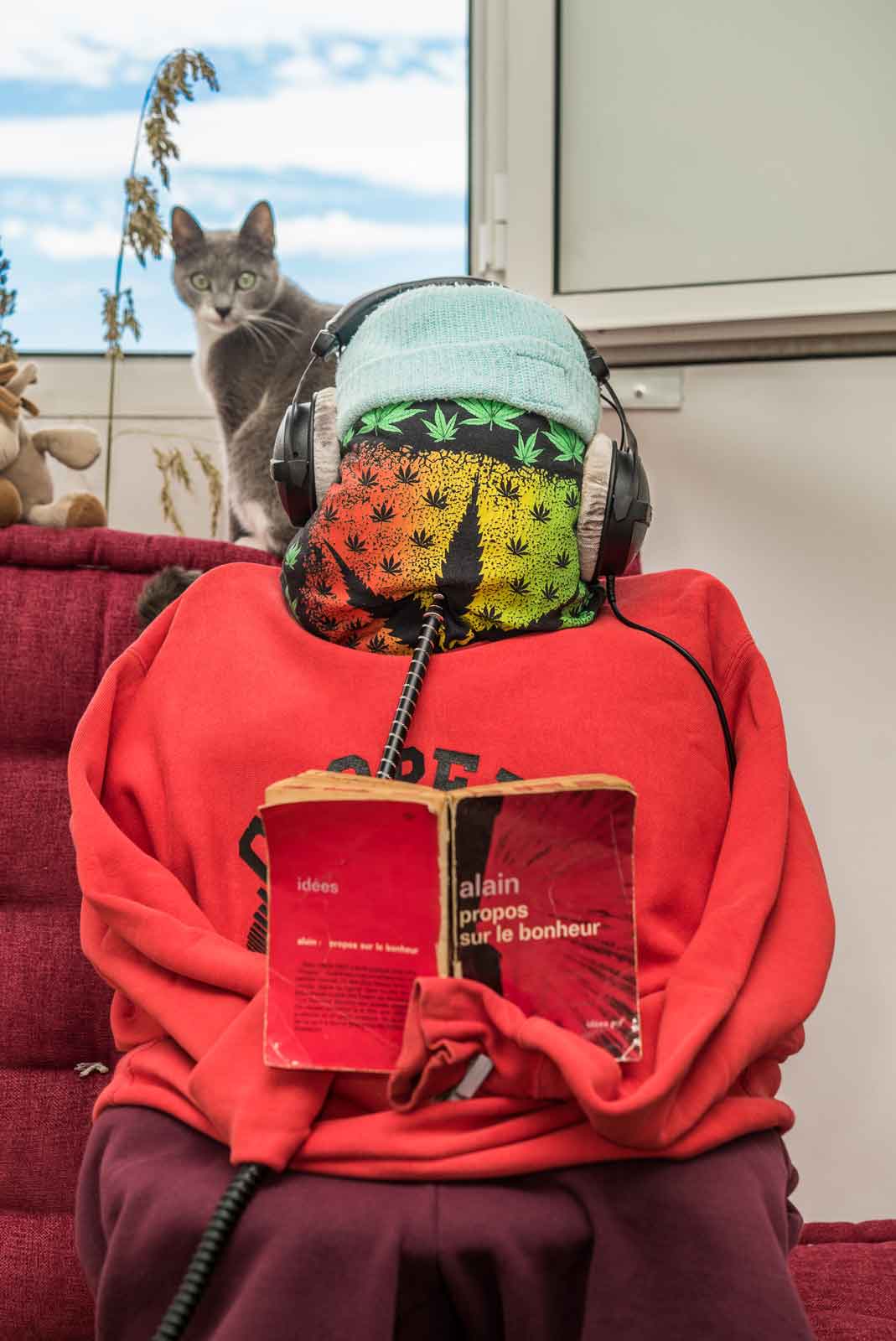 Salamalec,
Cher ami, chère copine,
J'ai reçu il y a peu un appel à participer à une exposition photographique collective organisée par La Maison de l'Image à Tunis autour de la thématique « Rooms with a view, a confined portrait ».
"Le confinement que nous vivons aujourd'hui est un moment historique. Paradoxalement, on associe en général le « moment historique » à une déviation nette du cours du temps, à un changement radical.
Et si le confinement que nous vivons a le potentiel de devenir une période de transition ou de basculement, cela aura été par la nécessité de l'enfermement et de l'immobilité. Ce paradoxe et cette impérieuse présence de 4 murs : faut-il en témoigner ?
Beaucoup de photographes se retrouvent tous confrontés à eux même, on réfléchit (ou pas), on se regarde, on médite sur notre perception de l'avenir. Nos humeurs sont mitigées, nos expressions changent plusieurs fois par jour. Notre perception du soi commence à avoir plus de sens et de profondeur. Quel est donc votre perception de vous-même ?"
La Maison de l'Image vous propose une visite virtuelle et ce à compter du 7 mai 2020 et s'étalera jusqu'au 29 mai 2020 pour découvrir l'exposition collective « Rooms with a view, a confined portrait », une exposition photographique de grande envergure fruit d'une quête périlleuse, regroupant 25 artistes des 5 continents et qui a pour commissaire d'exposition Amine Landoulsi. De Milan à New York à et de Wuhan à Téhéran, tous d'où qu'ils soient, partageront avec vous leur vécu durant cette crise mondiale sans précédent!
Je tiens à remercier Wassim Ghozlani et Amine Landoulsi de m'avoir donné l'opportunité de m'exprimer durant cette période inédite.
Ces photos font partie de la série intitulée "PORTRAIT DE FRIPES" que je réalise dans le cadre ma mission, redonner corps et vie aux vêtements de seconde-main grâce à un chat et une chaise!
– Des chambres avec vue, un portrait confiné –
"Chat perché à la fenêtre rêvant de bonheur se retrouva entre quatre
murs et un toi. Alain, la chicha au bec, nuage plein la tête, n'ayant
plus de visite, s'en est laissé aller, au gré d'une paresse sans
mesure, demeurant ainsi quarante jours, dans un présent sans
précédent. Une vie qu'il n'avait jamais imaginée avant, nuit et jour,
à chaque instant, loisir et oisiveté, à contre-temps, d'un air gai,
il trouve enfin ce qu'il cherchait.
Le tant d'un temps."
Quickview

JACKETS, L, M, SPORTSWEAR

SERGIO TACCHINI - SKY ANORAK HIGH NECK COLLAR

Padded anorak for winter sports. The acidulous colors give warmth to the surroundings and illuminate the wearer.

2 pockets
Mesure A: ~68cm L:~73cm
Taille L

| Composition | 100% NYLON |
| --- | --- |
| Circa | 11990' |
| Made in | Italy |
| Condition | 8/10 |

€

45,00